Every now and then, with all the yummy recipes I make for this blog, one recipe stand out more than the others…  a recipe I claim to be one of my top favorites from the blog. Top favorites meaning within the Top 5 of almost 1000 recipes…
Today, I am sharing one of those recipes that made my personal favorites list.
I thought I was in love with this Chocolate Sheet Cake…
And then changed things up to make this Coconut Sheet Cake which turned out to be amazing…
but then, this masterpiece was born!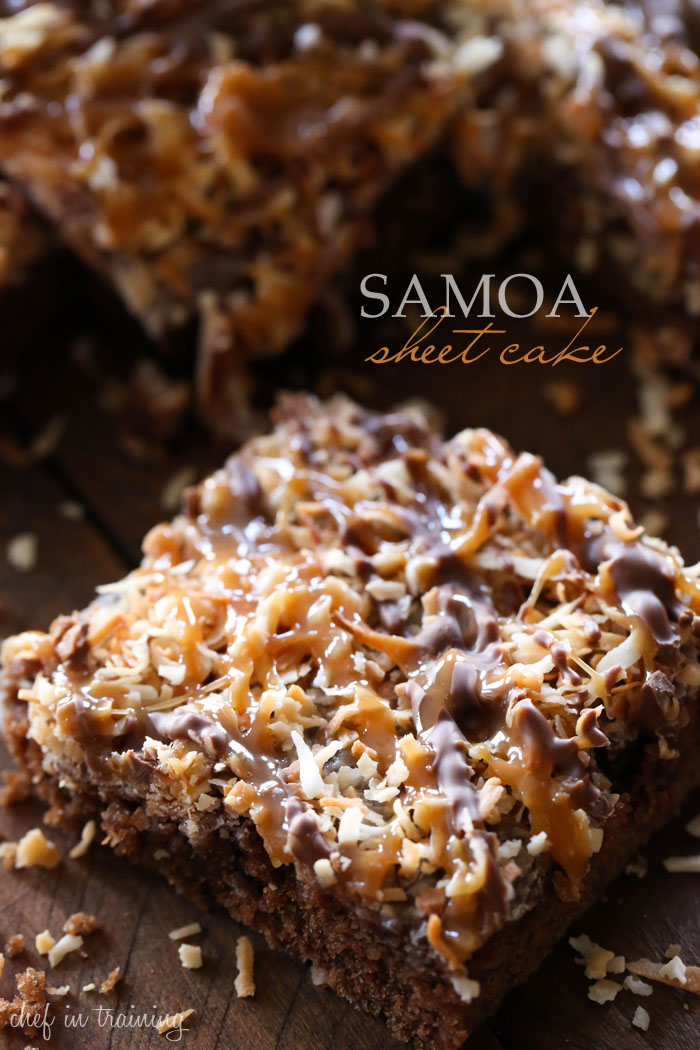 Samoa Sheet Cake… WOW! This has a warm Caramel Glaze Frosting that is perfection. Then as if that was amazing enough, you then top that glaze with toasted coconut and drizzle with melted chocolate and caramel sauce. I am telling you, this is absolutely one recipe you HAVE to make from the blog!
This went to a party where everyone was raving about it! I then made a second one and sent some of its remains (and by remains, I mean what I had to forcefully get out of my house before I lost all self control) to my husband's work where it then proceeded to amaze his coworkers.
Don't pass up this recipe. You, and whoever else gets the privilege to partake, will be in heaven with each and every bite consumed!
Samoa Sheet Cake
This is one cake you will want to make over and over again! It is amazing!
Ingredients
2 cups flour
2 cups sugar
½ cup butter
1 cup water
4 Tablespoons cocoa
½ cup shortening
½ cup buttermilk
½ teaspoon baking soda
2 eggs
1 teaspoon vanilla
FROSTING
½ cup butter
6 Tablespoons milk
3 cups powdered sugar
1 teaspoon vanilla
⅛ cup caramel sauce, I used caramel ice cream topping in the jar
Additional Toppings
2½ cups toasted coconut, See instructions below for how to make it
7 to 8 ounces caramel, either Kraft Caramel Cubes or from a block of Caramel. I used a block of Peter's Caramel.
⅛ cup evaporated milk
¾ cup milk chocolate chips
1 teaspoon shortening or oil
Instructions
Before making the cake, line an 18x13x1 inch cookie sheet with foil and spread shredded sweetened coconut evenly over cookie sheet.
Bake at 375 degrees F for 10 to 15 minutes, checking and tossing coconut regularly, every 2-5 minutes, to make sure all the coconut gets toasted evenly and does not burn. Coconut is done when it is golden brown.
In a large mixing bowl, measure flour and sugar. Set aside.
In a medium sauce pan, combine butter, water, cocoa and shortening. Bring to a boil. After mixture reaches a boil, add it to the flour mixture and stir to combine.
Add buttermilk, then baking soda, then eggs, then vanilla in that order, mixing in-between each addition.
Pour into a greased 18x13x1 inch cookie sheet and bake at 400 degrees F for 20 minutes.
Frosting
In a medium microwave safe bowl, combine butter and milk and bring to a boil. Stir caramel sauce and then add powdered sugar and vanilla and stir until smooth.
After cake has cooked, remove from oven and poke holes in hot cake with a fork. Pour frosting evenly over top. Immediately sprinkle with top of warm frosting with toasted coconut.
In microwavable bowl, add caramel and evaporated milk and cook on high in 30 second increments, string in between each increment. Continue to cook and stir until caramel is smooth. Drizzle over coconut.
In another microwavable bowl, add chocolate chips and shortening (or oil). Microwave on high in 30 second increments, stirring in between each increment until the chocolate in melted. Drizzle over caramel.
Let Caramel and Chocolate drizzle set before cutting into it.
Enjoy!