Nutella Rice Krispy Treats
Three words.
To. Die. For.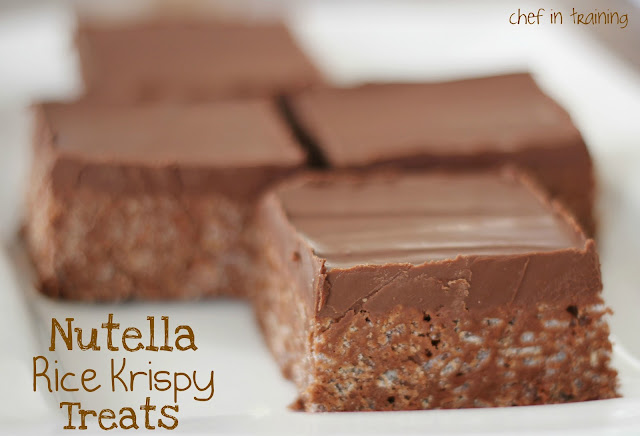 That is how I would describe this heavenly creation.  If you love Nutella, you have got to try out this recipe. You will be so happy you did!If you haven't joined the Nutella band wagon, now would be the time to hop aboard.  Seriously.  You are missing out!  After you take your first spoonful, and decide you have an addiction, make these.
Let me tell you about how I first fell in love with Nutella.Before having kids, I hated grocery shopping.  It was something that I had to do.  Now, having two kids, I see it as something I get to do.  Let me explain.  I think every stay-at-home mom can agree, personal you time is crucial for your sanity.  So when the hubby is home, and after the kids go to bed, I just like to go out for a drive and spend some quality "me-time" even if it is just a drive.  Well, I started doing my grocery shopping at night, and it is wonderful.  The crowds are gone, it is silent, and I am by myself.  I now enjoy grocery shopping.  It was on one of these night grocery store outings after my first child was born that I stumbled upon Nutella.  I noticed it, never heard of it before,  and deiced "What the heck?! Its worth a shot!"  After my first spoonful, I have been hooked.
How did you first hear or taste Nutella?
Now lets combine our love for Nutella and our love for Rice Krispy Treats, and you get this wonderful masterpiece.
 DELICIOUS!
Enjoy!
recipe from:Liv Life
Linking up to these parties and here