Kneaders Raspberry Bread Pudding
My younger sister is getting married today!  I thought this would be the perfect recipe to share on this blissful day….because this recipe truly is blissful!
I was just recently introduced to Kneaders earlier last year.  I am a big sandwich fan, and convenient enough, that is what this restaurant specializes in!  Aside from their yummy sandwiches, they have some delicious desserts, this Raspberry Bread Pudding being one of them.  You could say it was love at first bite for me.  Ever  since my first bite, I have been on the lookout for a copy cat or similar recipe.  Thanks to Pinterest, I have now found one!  This could be a dangerous thing for me!You will love the sweetness and fruitiness that this bread pudding offers!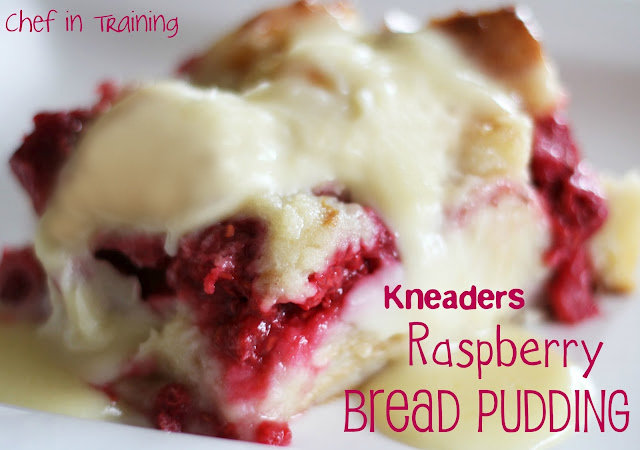 Kneaders Raspberry Bread Pudding
This recipe is rich and delicious! The vanilla white sauce is absolutely amazing topped over this raspberry bread pudding!
Ingredients
1½ loaves aged, white bread
1 quart heavy cream
3 cups sugar
1 egg
1 teaspoon vanilla
5 cups raspberries, fresh or frozen
1 cup sugar
½ cup apple juice
Vanilla Cream Sauce
1⅓ cups butter
5 tablespoons flour
3 cups heavy cream
½ teaspoon salt
2 teaspoons vanilla
⅔ cup sugar
Instructions
In a large bowl, combine cream, sugar, egg and vanilla and beat until well combined.
Cut bread into 1½ inch cubes and add to cream mixture, coating the bread well.
Let bread sit in cream mixture for 30 minutes, stirring every 5 minutes to allow cream to absorb.
After mixture has absorbed for 30 minutes, mix the raspberries, sugar and apple juice. Stir until sugar is dissolved.
Layer a 9x13 inch baking pan ¾ full with the bread mix and pour fruit filling over the bread mix, spreading evenly.
Top with the remaining bread.
Bake 40 minutes at 375 degrees F.
Serve warm topped with vanilla cream sauce.
If you are looking for nice square pieces, chill before slicing.
VANILLA CREAM SAUCE
Melt butter in medium saucepan and add flour. Stir 10 minutes until it has a nutty aroma, but make sure not to brown. Add salt, cream and sugar and stir until mixture becomes thick. Remove from heat and stir in vanilla.
Serve warm over the pudding.
Enjoy!
(recipe from:
Purple Chocolat Home)