Chicken Enchilada Pillows
Enchiladas are one of my favorite dinners. However, since it is one of my favorite dinners, we tend to have them any chance I get to make repeat dinners. Being a food blogger, you are constantly creating new content which means repeat dinners don't happen as often as they did in my pre-blog life. Since we have enchiladas more frequently than any other dinner, I like to try to change it up so we aren't experiencing the same meal over and over again.
One day well menu planning, the idea for transforming them into "Pillows" came to me.  The traditional recipe for Chicken Pillows rolls them in saltine crackers, but since these are ENCHILADA Pillows, I new something had to be different with the outer side of the pillow. I stepped it up a notch and rolled them in crushed tortilla chips. Topped with my go-to enchilada topping, it really brings this dish together for one flavorful and tasty meal.
I am not joking when I say this recipe is a MUST MAKE! It is definitely in my top favorite recipes of all time. The original Chicken Pillow recipe is still my hubby's all time favorite, but he couldn't believe, nor stop commenting on, how delicious these were! It was love at first bite for him and he said that these will definitely make the next round of "hubby favorites".
Chicken Enchilada Pillows
A simple and unique twist on traditional enchiladas. This recipe is so delicious and will soon become a new family favorite!
Ingredients
1½ cups cooked and shredded chicken
½ cup black beans, drained
½ cup frozen corn
½ tsp. cumin
½ cup red enchilada sauce
½ cup shredded Mexican cheese, shredded colby jack and monterey cheese will work as well
1 can Pillsbury BIG and FLAKY Crescent Rolls
1 egg
1 Tbsp. water
2 cups crushed tortilla chips
TOPPING
½ cup sour cream
½ cup cream of chicken soup
extra cheese for sprinkling
Instructions
Combine chicken, black beans, corn, cumin, enchilada sauce and cheese in a large bowl until combined. You want the mixture to be damped enough from the enchilada sauce but not too wet.
Preheat oven to 350 degrees F.
Lay out the 8 crescents on a cookie sheet. Stretch the crescent out just slightly to make a little more room for the filling, being careful that you do tear or make any holes in crescent dough.
Place about 3 spoon fulls of the chicken mixture into the center of the crescent to fill it. Then fold the crescent around the mixture so that none of the filling is showing. I'll call this the "pillow".
In a separate smaller bowl, put the egg and a little bit of water, maybe a couple Tablespoons worth and beat together.Dip the "pillow" into the blended egg. After dipping into the blended egg, proceed to dip it into the crushed tortilla chips and place on cookie sheet. Repeat for the remaining 7 crescents.
Cook the pillows at 350 F for 25-30 minutes. Keep an eye on them for when they brown. Your oven might cook them quicker.
For the topping: Combine sour cream and cream of chicken into a small sauce pan and stir over medium low heat until it is heated through. Top cooked Enchilada Pillows with topping and sprinkle with added cheese.
Enjoy!
 For the second party of today's post, I've teamed up with a few other bloggers to bring you some Back to School Recipe Ideas. We have made them simpler by using Pillsbury Products (always a staple in my fridge!) Be sure and take a look at some of the other recipes my friends are bringing to the table :)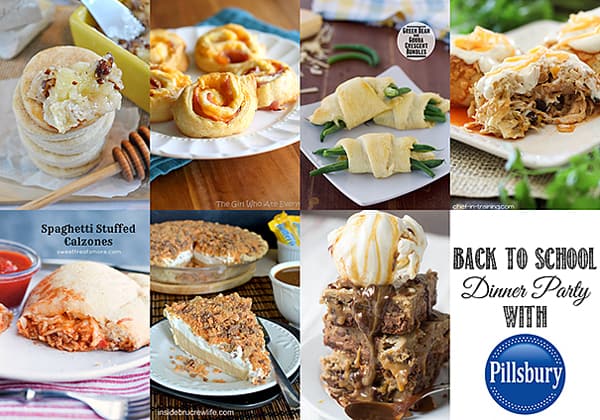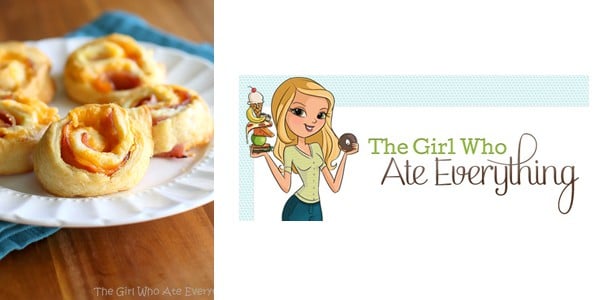 Appetizer – Ham and Cheese Pinwheels by The Girl Who Ate Everything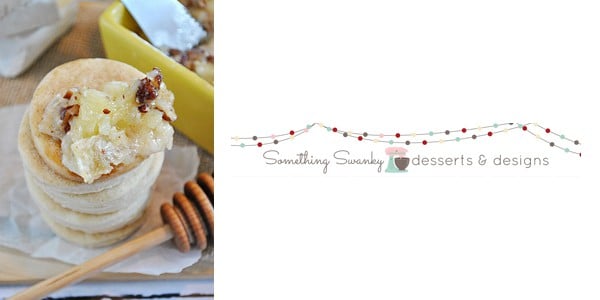 Appetizer – Honey Pecan Baked Brie Dip with Pie Crust Dippers by Something Swanky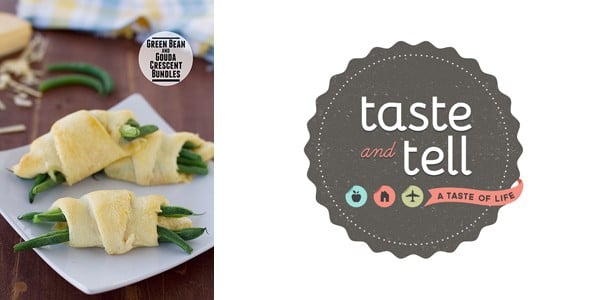 Side Dish – Green Bean and Gouda Crescent Bundles by Taste and Tell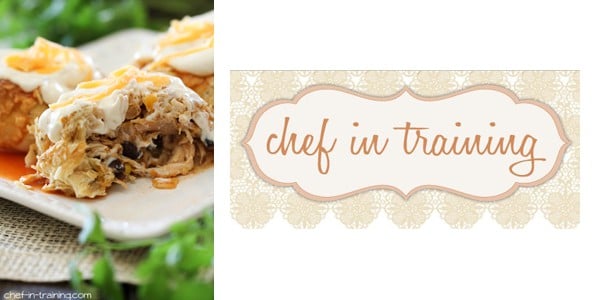 Main Dish – Chicken Enchilada Pillows by Chef in Training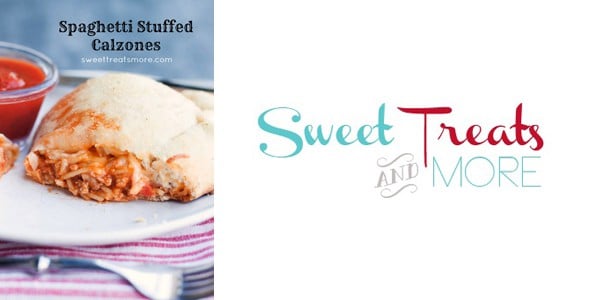 Main Dish – Spaghetti Stuffed Calzones by Sweet Treats and More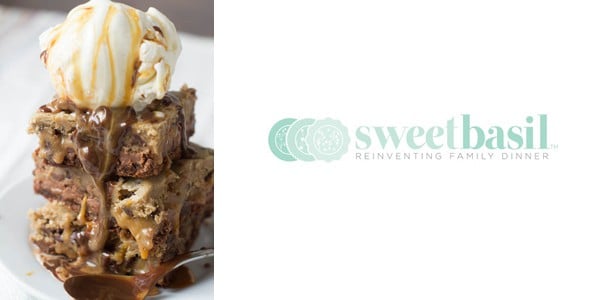 Dessert – Bomb Diggity Brownies by Sweet Basil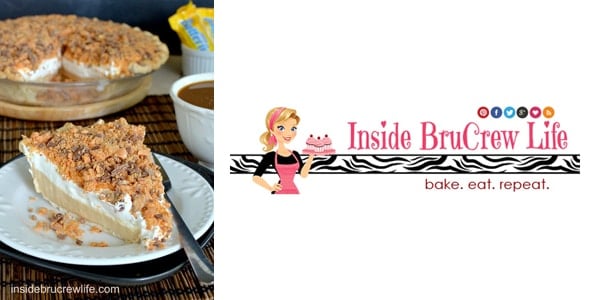 Dessert – Peanut Butter Butterfinger Pie by Inside BruCrew Life
Enjoy and I hope you are off to a great start on your week!
If you like these Chicken Enchilada Pillows, then you will love:
Creamy Cheesy Green Chile Chicken Enchiladas