Gingerbread Pudding Cookies
I am so excited to have Jocelyn from Inside BruCrew Life here today. I just adore her blog.  Today, she is sharing a pudding cookie recipe with you today and do they ever look delicious. The gingerbread makes these an excellent cookie choice for the holidays!
………………… 
Hi, Chef in Training fans. Jocelyn from Inside BruCrew Life here with you today. I am so excited to be participating in Nikki's holiday cookie week. I just adore Nikki and all the wonderful recipes that she shares with us. She inspires me every single day with her recipes and awesome photography. I am looking forward to the day we actually get to meet in person:-)
This time of year I like to bake lots and lots of cookies. Ok, fine. I actually like to bake cookies year round. But at least during the holidays, it is acceptable to make 12 different varieties in less than 2 months, plus fudge and pretzels, right?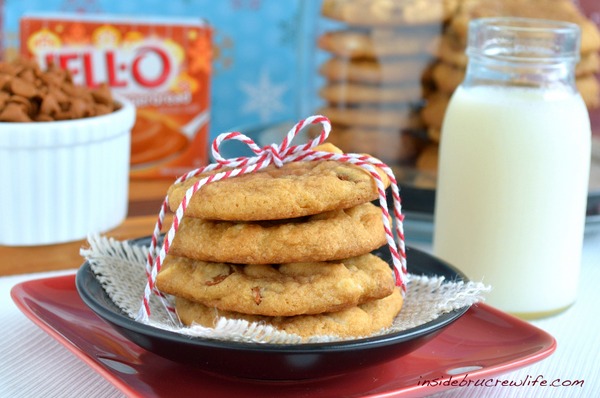 When I saw this Gingerbread pudding at Walmart, I knew right away what cookie I wanted to share here. I know how much Nikki loves pudding cookies, and they have become my go to cookie recipe too. This year I have made M&M Pumpkin Pudding Cookies, Coconut S'mores Pudding Sandwiches, and my all time favorites…Peanut Butter Pudding Cookies. There was no other cookie I wanted to make more than this one for cookie week. If you haven't tried using pudding in your cookies yet, I totally recommend it. The cookies are so soft and chewy. I love to eat them fresh out of the oven, when they still have that slightly under baked center going on. These ones have just a slight hint of gingerbread…enough to say bring on the holidays!!!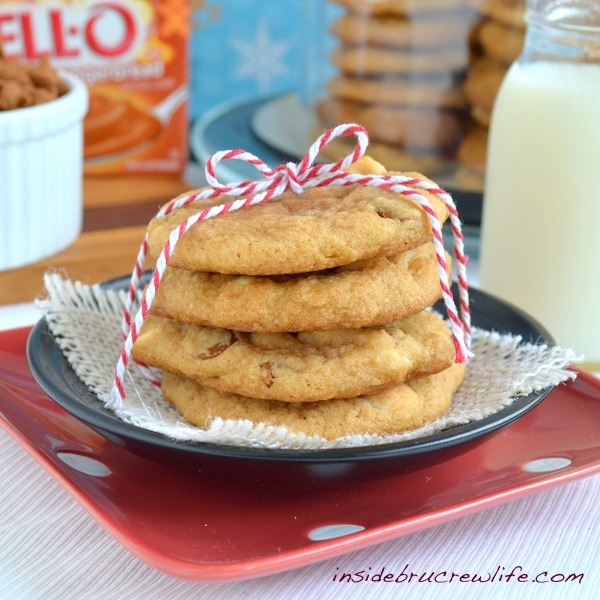 GINGERBREAD PUDDING COOKIES
1/2 c. butter, softened
1/4 c. plain yogurt
3/4 c. brown sugar
1/4 c. sugar
1 tsp. vanilla
2 eggs
1 box instant gingerbread pudding mix
1/4 tsp. salt
1 tsp. baking soda
2 1/4 c. flour
3/4 c. cinnamon chips
3/4 c. white chocolate chips
Cream the butter, yogurt, and sugars until light and fluffy.
Add the eggs and vanilla and cream again.
Sift together the pudding, salt, flour, and baking soda.
Slowly add to the creamed mixture.
Stir in the chips by hand.
Drop by small rounded spoonfuls onto a baking sheet.
Bake at 350* for 9-10 minutes.
Cool on a wire rack.
Store in a sealed container. 
Thank you so much Nikki for the fun opportunity to share a holiday cookie with your readers. I had a blast creating this cookie just for you.
……………….
Be sure and visit Jocelyn's blog, Inside BruCrew Life
you can also find her on
Facebook | Pinterest | Twitter